Eish, getting back into studying after ten years is quite something. Especially when you make a screw up as big as I did and register for an entire year's courses to be completed in four months.
The root of this problem is that I was unaware that UNISA offered semester courses. I was under the impression that all courses were year long with exams at the end of the year. Not so. Secondly, UNISA's course coding is not as intuitive as my alma mater UCT. There, courses for a first semester ended with an F and for the second semester ended with an S. Who knows what UNISA's course coding system is - it looks like every letter of the alphabet has a place.
But all that is OK. My sabbatical must end soon and it would have been impossible for me to carry a study load while working.
Studying itself has been difficult. My mind has wandered ceaselessly in line with decisions regarding a new job, relationship up-and-downs, koi, the weather and the moon.
Despite this I have managed to cover the course work and at times had the focus to contemplate the studies' application which of course is the ultimate purpose.
I am currently in the middle of exams which has been an experience in itself. It was nerve wracking going back into an exam hall. And freezing. Bloody hell, writing exams on a winter morning in a sports hall requires layered dressing. Also, I've been made to feel old as I have considered the youngsters around me. And I have had to reacquaint myself with writing the contents of a textbook in the space of two hours. The latter takes practice and with the modern world of business requiring more typing than speed writing, it has been tough.
Currently I am attempting to
crowd out
(economic term) the wandering thoughts and focus on econometrics - which I write on Friday. Luckily I have an excellent textbook. My current topic is
heteroskedasticity
. The author remarks that "although heteroskedasticity is a difficult word to spell, at least it's an impressive comeback when parents ask, "What'd you learn for all that money?"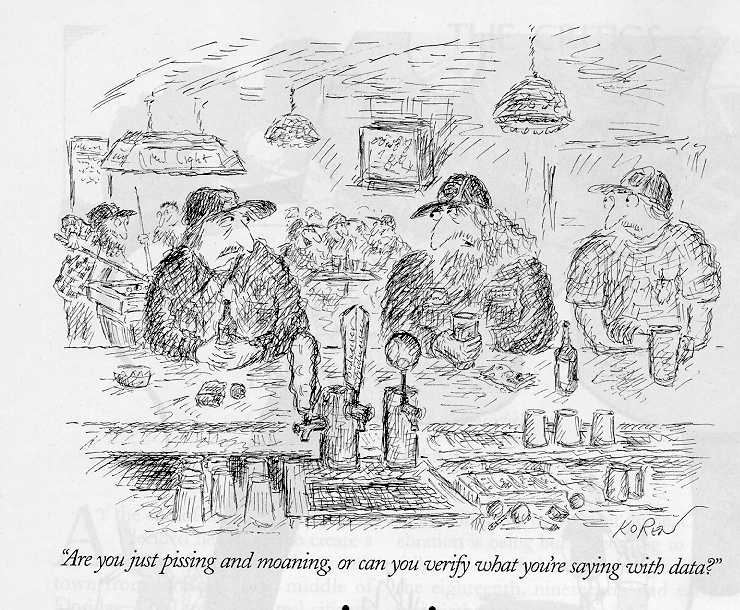 My studying will make me so much more interesting company in the bar - click to enlarge - caption reads "Are you just pissing and moaning, or can you verify what you're saying with data?" Picture: University of Illinois